万历官窑五彩烧造难度大,产量低,传世不多。多见于小件,大件器物罕。器形多样,有盘、碗、洗、罐、瓶、尊、各式盒(圆、方、六角、银锭等)花觚、笔杆等。图案纹饰以龙凤、花草为主,并有婴戏、八仙、鱼藻等画片。万历官窑五彩小件器物的胎体精致细密,大器胎体厚重,釉面光泽肥润,微微泛青。多采用开光和镂空工艺,别具一格。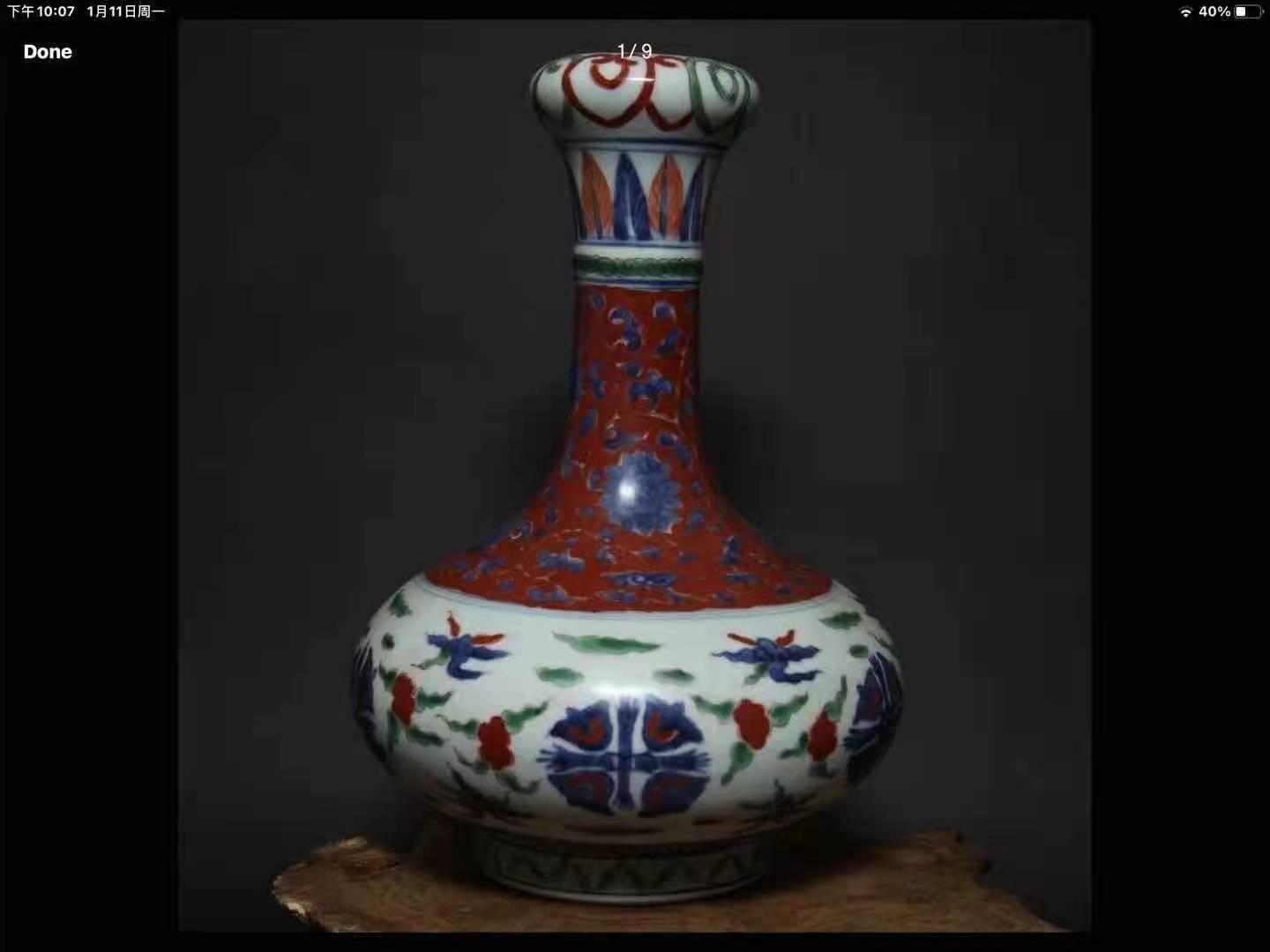 "万历五彩"以缤纷古艳、华丽繁茂称雄,充分展现明末宫廷生活的奢靡之风,近百年来深受日本收藏界的重视和喜爱。在山中商会和龙泉堂的旧时账目中,常可以看到万历五彩瓷器以高价进出的记载,在民国时期,万历五彩的价格明显高于绝大多数清代官窑。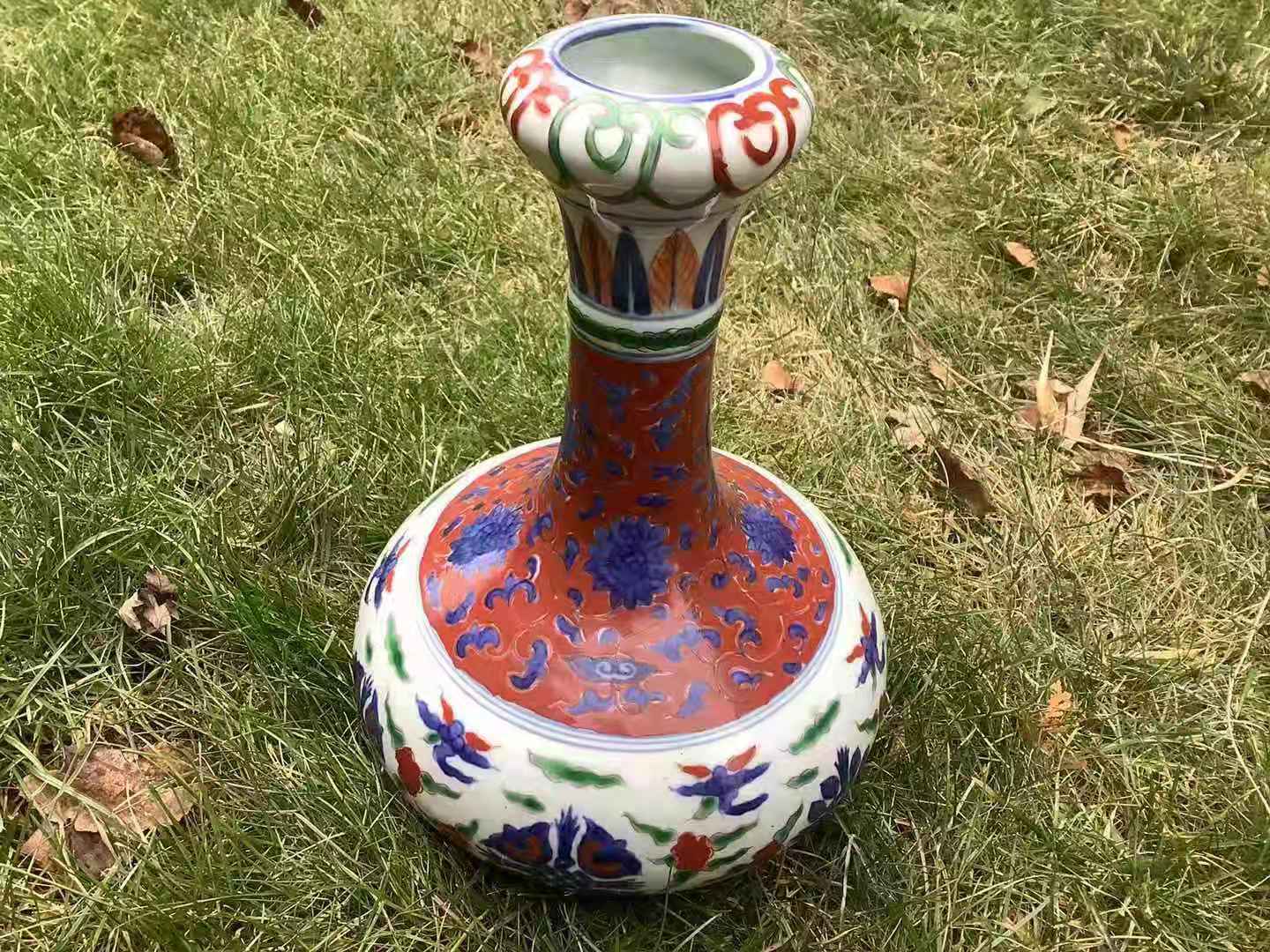 近年来国内艺术品市场迅猛发展,藏家对古代瓷器艺术品的认识不断深入,经济实力雄厚的藏家开始关注官窑五彩瓷器的收藏。2000年香港苏富比拍卖会上,一件明嘉靖五彩鱼藻纹盖罐,此器引得世界各地藏家竞相争夺,最终以高达4404.475万港元成交。2005年香港苏富比拍卖会上,一件明万历五彩荷塘鸳鸯图蒜头瓶以428.24万元。近年,五彩瓷成交前10位中,有一半是嘉万时期的五彩瓷器,可见目前,明代官窑五彩瓷器的价值正在逐渐上升。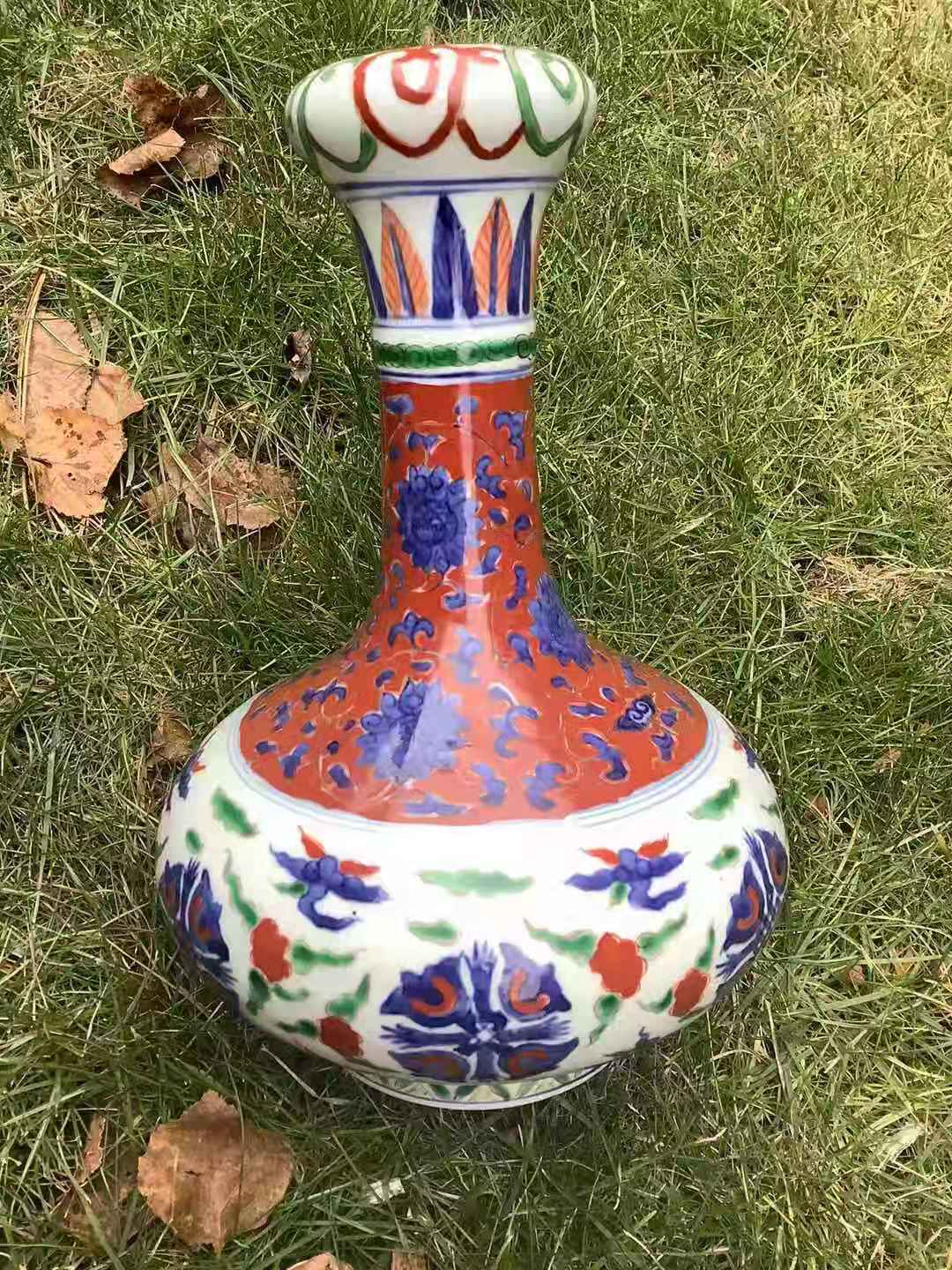 【五彩花卉纹蒜头瓶】
五彩花卉纹蒜头瓶,明万历,。
瓶蒜头口,细长颈,圆腹下垂,圈足。通体青花五彩装饰,釉上彩有红、黄、绿、褐、紫彩等。腹部绘花卉纹,颈部绘缠枝花卉纹。上下衬以变形莲瓣、卷草纹等。瓶底部青花楷体"大明万历年制"六字款。
此瓶属于当时宫中的陈设用瓷,造型端庄凝重,优美典雅,纹饰细腻,线条流畅。
花卉纹蒜头瓶这类大件彩瓷均为万历时新创。这种瓶除了以花卉纹装饰者以外,尚见有以鸳鸯莲花纹和龙穿花纹装饰者。
明代万历青花五彩的风格与早期五彩迥然不同,前者用色具有强烈的装饰性,颜色多用红、黄、绿、紫等饱和色,而不用浅淡的中间色,以红浓绿艳取胜。绘画用笔豪放不羁,线条挺健有力。
目前五彩花卉纹蒜头瓶的投资市场火热,行情大涨,极为罕见、有巨大的投资价值、及收藏价值、如需收藏购买、此藏品请与我们客服联系、我们将竭诚为您服务!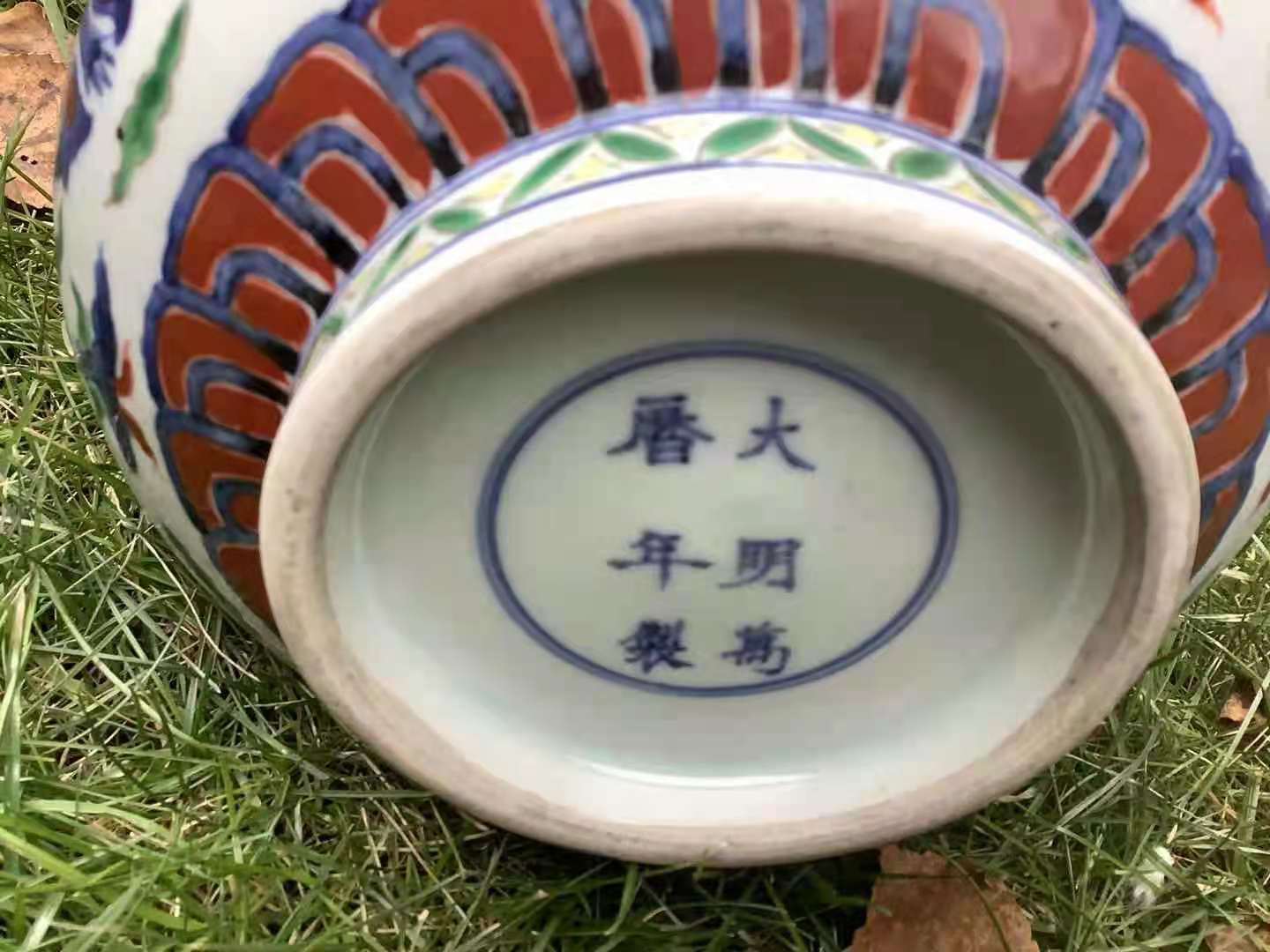 英文翻译:
Wanli kiln multicolored firing difficult, low output, few handed down. More in small, large artifacts rare. The vessel has various shapes, such as plates, bowls, washers, cans, bottles, bottles, various boxes (round, square, hexagonal, silver ingots, etc.) vase, pen holder, etc. Patterns decorated with dragons and phoenixes, flowers and plants, and baby play, eight immortalies, fish algae and other pictures. Wanli kiln multicoloured small wares delicate and fine body, large body thick, glazed luster fat, slightly green. More use of open and hollow out technology, have a unique style.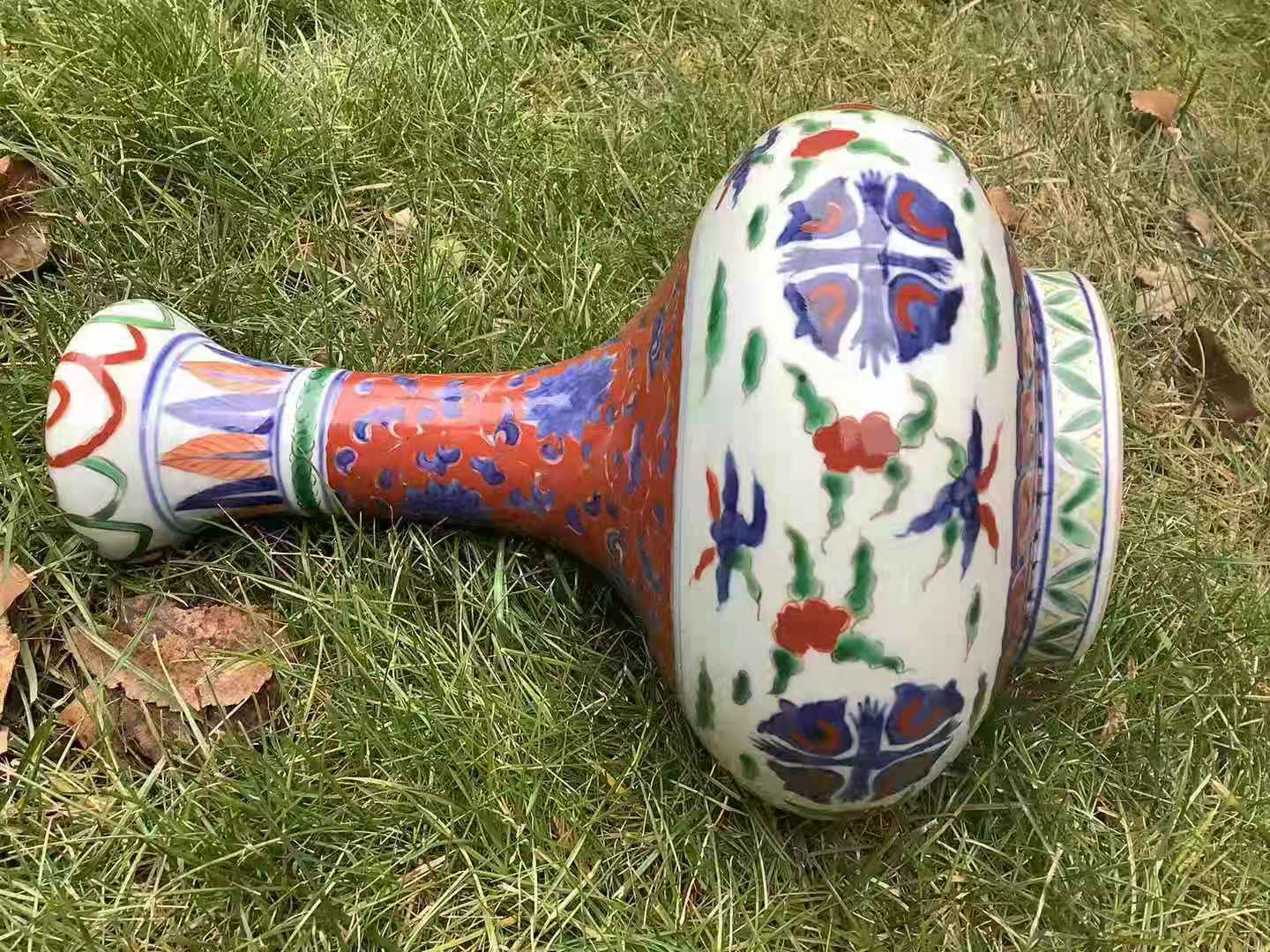 "Wanli multicolor" to profusion ancient, luxuriant reign, fully show the extravagant wind of the court life at the end of the Ming Dynasty, nearly a hundred years by the attention and love of Japanese collectors. In the old accounts of Shanzhong Chamber of Commerce and Longquan Tang, it can often be seen that Wanli multicolor porcelain was imported and exported at high prices. In the period of the Republic of China, the price of Wanli multicolor porcelain was significantly higher than that of most Qing Dynasty official kilns.
In recent years, the domestic art market has been developing rapidly, and collectors' understanding of ancient porcelain artworks has been deepening, and collectors with strong economic strength have begun to pay attention to the collection of multicolored porcelain in official kilns. Hong Kong Sotheby's auction in 2000, a Ming Jiajing multicolor fish algae line cover jar, this device attracted the world around the home compete for, finally with as high as 44,044,750,000 Hong Kong dollars clinch a deal. In 2005 Sotheby's Hong Kong auction, a Ming Wanli multicolored lotus pond Yuanyang garlic vase for 4.282,400 yuan. In recent years, in the top 10 multicolor porcelain transactions, half of them are multicolor porcelain of the Jiawan period. It can be seen that at present, the value of multicolor porcelain of the Ming Dynasty official kilns is gradually rising.
Colorful Garlic Bottle with Flower Pattern
Colorful flower pattern garlic bottle, Ming Wanli,.
Garlic mouth, slender neck, round abdomen drooping, circle foot. The whole body is decorated with blue and white colors, and the colors on the glaze are red, yellow, green, brown and purple. Abdomen painted flower pattern, neck painted twine flower pattern. Up and down lined with deformed lotus petals, grass, etc. Bottom of the bottle blue and white regular "Da Ming Wan Li year system" six words.
This bottle belongs to the display porcelain in the palace at that time, dignified and dignified, graceful and elegant, exquisite decoration, smooth lines.
Flower grain garlic bottle this kind of large color porcelain are ten thousand years of new creation. This kind of bottle besides adornment with flower grain, still see to have adornment with mandarin duck lotus pattern and dragon to wear pattern.
Wanli blue and white colorful style of the Ming Dynasty is very different from the early colorful, the former color has a strong decorative, color red, yellow, green, purple and other saturated colors, rather than light middle color, to win by red dark green yan. The painting pen is bold and uninhibited, and the lines are strong and strong.
At present, the investment market of colorful flower grain garlic bottle is hot, the market has soared, extremely rare, has a great investment value, and the collection value, if you need to buy, this collection please contact our customer service, we will serve you wholeheartedly!